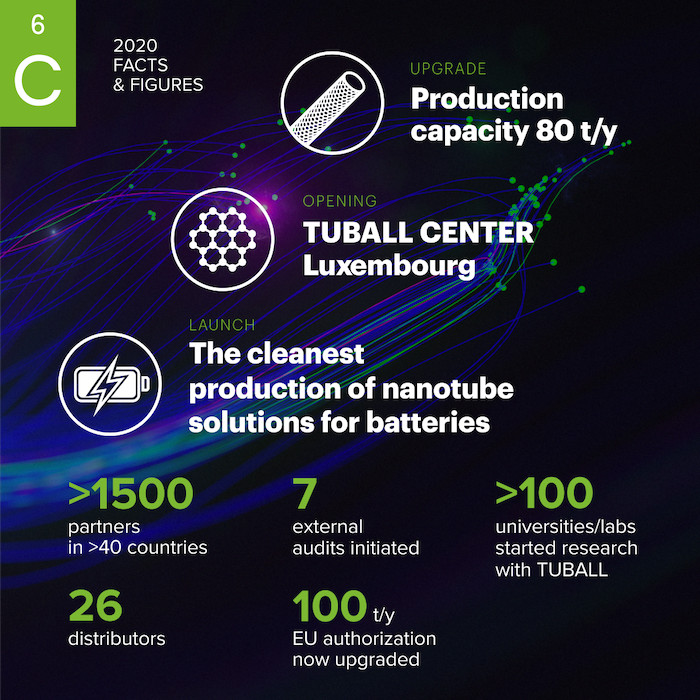 On the eve of the New Year, we like to summarize the results of the outgoing year. And here are the most important events and milestones of 2020 for the global OCSiAl team, its partners and the graphene nanotube industry.
#1. Annual production capacity reaches 80 tonnes
In February 2020, OCSiAl's new Graphetron 50 facility reached its full production capacity of 50 tonnes per year. Together with the upgrade of its first synthesis facility, Graphetron 1.0, OCSiAl's annual output increased to 80 tonnes of graphene nanotubes per year.
#2. Opening of TUBALL CENTER Luxembourg
In September 2020, OCSiAl opened its first graphene nanotube R&D center in Europe. The center's focus is on the materials of the future: new elastomers and thermoplastic composites for the automotive industry of tomorrow.
#3. Launch of the cleanest production of nanotube solutions for batteries
In November 2020, OCSiAl launched an ultra-clean facility to produce nanotube additives for batteries, setting a new industry standard.
#4. New partners and distributors
The number of OCSiAl partners working or testing TUBALL nanotubes surpassed 1,500 companies in 40 countries. OCSiAl's global distributor network also expanded with the joining of Azelis in the UK, Dalian Liansheng Trading in China, Arya Chem in Canada, and Kathion Chemie De Mexico and NASEDA in Mexico.
#5. Seven audits initiated
To confirm the compliance of TUBALL-based products to the highest industry standards, OCSiAl participated in external audits initiated by its clients – the world's largest producers. Among them is the audit conducted by one of the world's top-three lithium-ion battery manufacturers for the newly opened TUBALL BATT ultra-clean facility.
#6. More than 100 universities started new projects with TUBALL
OCSiAl's program of supporting scientific research by providing graphene nanotubes for free has yielded more than 100 new R&D partners among universities from all over the world.
#7. OCSiAl became the largest European supplier of graphene nanotubes
With the upgraded dossier under the EU's REACH legislation, OCSiAl is now able to commercialize up to 100 tonnes of TUBALL annually in Europe.
It's time to say "goodbye" to 2020 with all gratitude for the important achievements and challenges that it brought to us.
We wish a Happy New Year 2021, health and happiness to every member of the OCSiAl global team, to our customers, partners and distributors and to all scientists in every corner of the world working on new discoveries made possible by graphene nanotubes.
Stay safe and healthy!