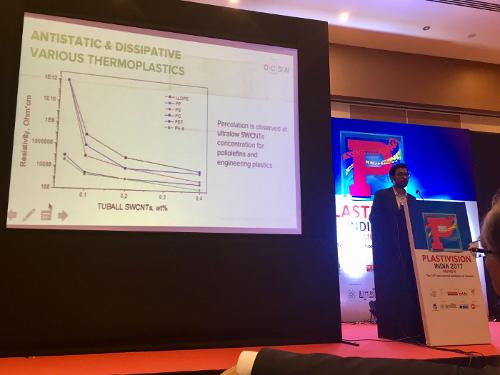 At the Plastivision India exhibition in Mumbai, OCSiAl introduced the capability of the TUBALL™ single wall carbon nanotube conductive additive to reshape the plastics industry. On 19 January in the Banquet Hall at the NESCO Grounds, OCSiAl's Managing Director, Mr Ravi Mohan Dabral, gave a presentation about "Making plastics permanently conductive".
Mr Dabral explained that, in contrast to conventional conductive additives such as carbon black that tend to degrade key mechanical properties and the colour of thermoplastics, just 0.1–0.2 wt.% of TUBALL single wall carbon nanotubes is enough to impart conductivity without compromising the mechanical properties. Homogeneous distribution of nanotubes in the bulk of the polymer results in uniform and permanent conductivity without hot spots.
When embedded into material, TUBALL nanotubes create a highly conductive and reinforcing 3D network, while maintaining the original colour and retaining strength. TUBALL nanotubes are finding a wide range of applications in the thermoplastics industry, such as anti-static electronic casings, blown films, carrier tapes , electronic packaging, fuel tanks, wires and cables.
"As well as being an advanced conductive additive, TUBALL nanotubes significantly improve the mechanical properties of composites, which is highly relevant in reducing product weight. The low dosage possibility also opens up new possibilities for conductive plastics," commented Mr Dabral.
Plastivision India is one of the most important events in the industry and it attracts the largest manufacturers who are focused on innovative technologies and solutions. TUBALL was well received by the visitors and drew the attention of a number of potential partners.