The OCSiAl delegation, represented by qualified experts in the rubber industry, was warmly welcomed at the 8th International Rubber Glove Conference & Exhibition (IRGCE) 2016, which was held on 6–8 September in the Kuala Lumpur Convention Centre, Malaysia. At the conference, Ekaterina Gorbunova, the Product Developer at OCSiAl who is responsible for TUBALL™-based solutions for various elastomers, delivered a speech entitled: "Prospective developments in latex products: applications of single wall carbon nanotubes".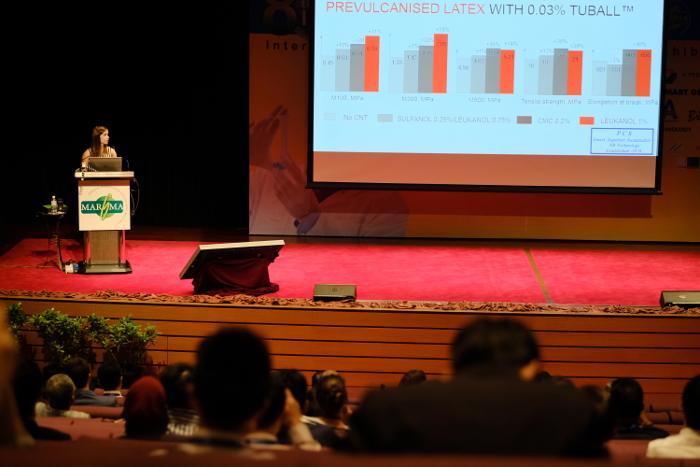 She presented the details of a unique breakthrough technology that has been developed specifically for the latex industry – TUBALL™ LATEX – to the hundreds of manufacturers and technology specialists who had gathered at the conference.  An innovative product with effective concentrations of only 0.03–0.05% of single wall carbon nanotubes (SWCNT), TUBALL™ LATEX is able to provide latex with permanent and humidity-independent anti-static and ESD properties. TUBALL™ LATEX also preserves colour brightness, enhances mechanical properties and allows the standard dipping process to remain unchanged.
Several follow-up questions concerning contemporary problems that the latex industry is facing today and about the ability of single wall carbon nanotubes to solve these issues were raised by the conference attendees. Ekaterina Gorbunova provided manufacturers with a deeper understanding of the latest trends in the additives market and described some of the growing number of successful applications of TUBALL™ LATEX in the latex industry.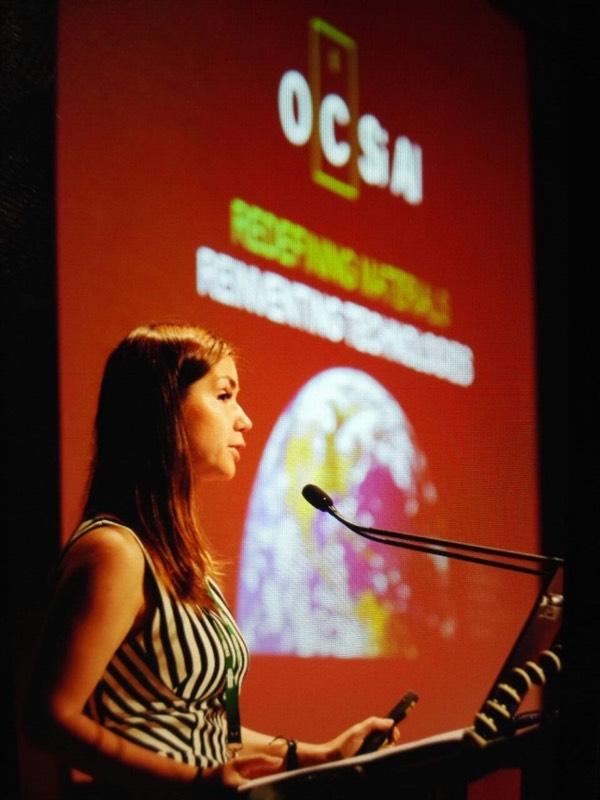 Rubber Asia , Asia's premier and largest selling rubber magazine with a readership spanning the major rubber-producing countries around the world, published a MARGMA special issue to coincide with the IRGCE conference. Complementary to the OSCiAl presentation at IRGCE, the magazine included a substantial article that was dedicated to this revolutionary product in the latex industry – TUBALL™ LATEX. Dr Ranjit Matthan, a world-renowned expert in latex processing technology, also gave an interview to the magazine and outlined the positive experience of nanotube applications in the rubber industry and the high potential prospects of using nanotube-based additives for the plethora of rubber products.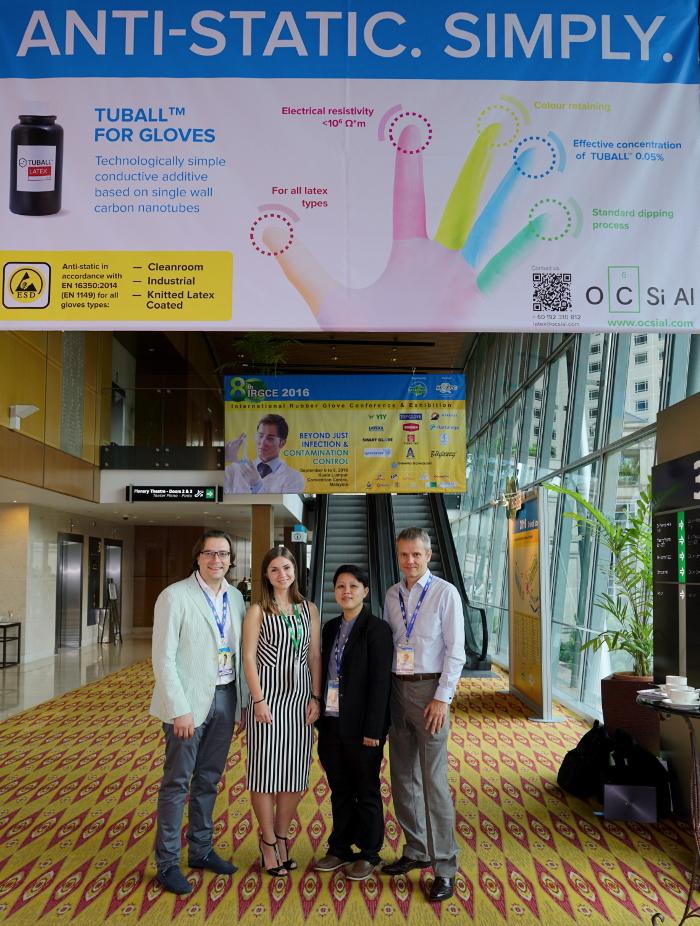 IRGCE, the largest conference and exhibition for rubber glove manufacturers, is organised biennially by the Malaysian Rubber Glove Manufacturers Association (MARGMA). Participation in IRGCE for the first time as an official member of MARGMA has enabled OCSiAl to strengthen its cooperation with glove manufactures and to provide them with an easy solution to comply with the new protection standard for electrostatic properties EN 16350:2014.