26 April, 2016, Seoul – OCSiAl Asia Pacific Co Ltd, the Korean arm of OCSiAl, the global single wall carbon nanotubes (SWCNT) manufacturer, has entered into a long-term partnership with Duksan Pure Chemicals, Inc. to develop and manufacture SWCNT-based products.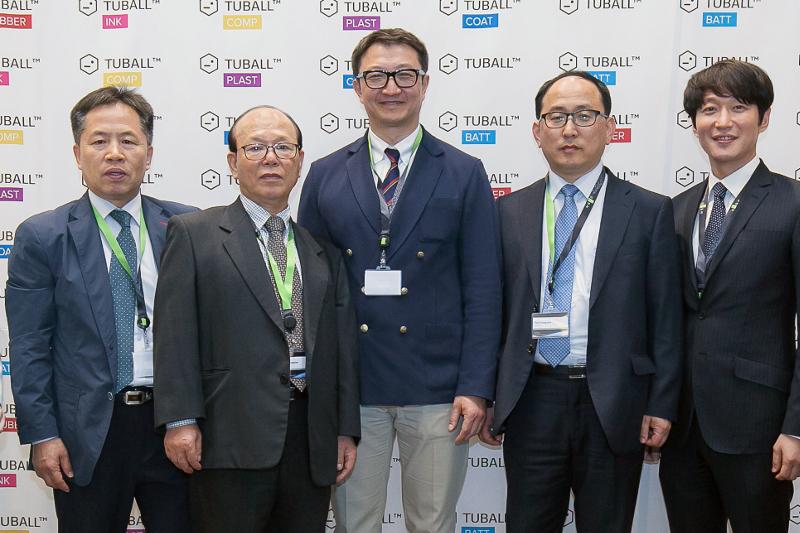 Under the terms of the agreement, Duksan has been granted a licence to produce, promote and supply several TUBALL-based products in Korea. Duksan is building a 4,000 m2 custom-made production centre at its third facility in the Jincheon area and has invested in an ultra-sonic dispersion unit to produce TUBALL-based suspensions for manufacturing products. OCSiAl will provide training to Duksan specialists as well as technical and marketing support. The company will also oversee production processes at the centre. This partnership of Duksan and OCSiAl puts the first stone into changing the material market of Korea with SWCNT and mass implementation of nanotechnology.


The centre will produce a range of suspensions, which can be used at research institutions as well as in industrial settings. Products to be manufactured and supplied to Duksan's domestic market include: TUBALL BATT, for modifying lithium-ion batteries and other applied energy products; TUBALL INK, for adding electrical conductivity to transparent conductive films; TUBALL COAT, for creating conductive paints and coatings; and TUBALL RUBBER, for adding electrical conductivity to latex and synthetic rubbers while improving their properties.
OCSiAl will supply 400 kilograms of TUBALL™ for product manufacturing. TUBALL, a unique material, which contains 75% of SWCNT, is used as a versatile additive for diverse materials and carriers.
Viktor Kim, OCSiAl Asia Pacific CEO, said: "This strategic alliance with Duksan goes beyond simply supplying SWCNT. Duksan's custom-built production centre will manufacture versatile suspensions for a number of diverse industries. The additional manufacturing capability to produce domestic TUBALL-based products, will expand areas related to TUBALL, which can be used for polymer composites, rubber, TCFs (transparent conductive films), paints and coatings."
Ko Young-chae, Duksan CEO, said: "This collaboration with OCSiAl has helped us to produce and supply more competitive SWCNT-based products. Through the long-term partnership, we will boost our competitiveness as a chemical reagents company and lead the industry."
OCSiAl was the first company to mass-produce single wall carbon nanotubes , regarded as the best property enhancing modifier of materials. Prior to the launch of OCSiAl's synthesis technology, the lack of availability of SWCNT in large quantities at a consistent quality and high pricing, made mass application difficult and cost prohibitive.
# # #
About OCSiAl
OCSiAl was the first company to develop breakthrough technology for single wall carbon nanotube production, enabling large - scale commercial use for the first time. In 2014 OCSiAl entered the nanomaterials market with the universal additive TUBALL™, which contains 75% of SWCNTs. OCSiAl is developing technologies based on SWCNT for a range of applications including lithium-ion batteries, elastomers, transparent conductive films, composite materials and others. It has regional offices in the USA, Luxembourg, Russia, Korea, China, Hong Kong, India. Specifics about the company are available on the OCSiAl homepage: www.ocsial.com .
About Duksan
Duksan produces chemical reagents, electronic industry reagents, pharmaceutical excipients, etc., leading the domestic reagent industry. Founded in 1970, the company, has made consistent investments and endless improvements in quality. It currently produces some 2,000 types of reagents and supplies high quality products at reasonable prices to destinations in Korea and Southeast Asia. Its headquarters and 1 st and 2 nd plants are located in Ansan, Gyeonggi-do, Korea. Specifics about the company are available on the Duksan homepage: www.duksan.co.kr .