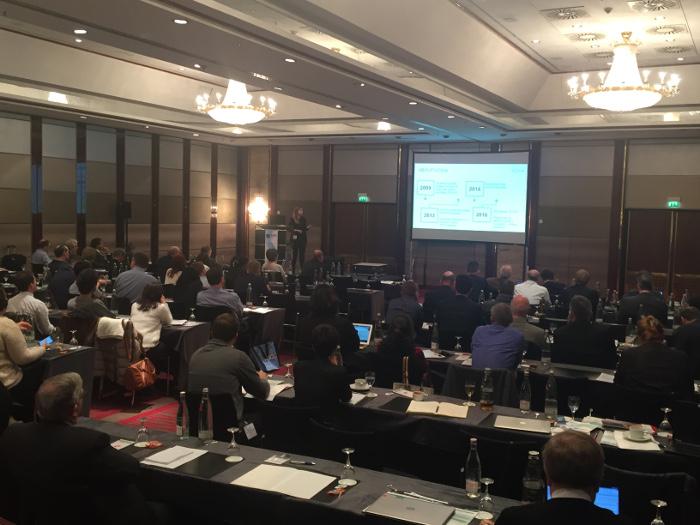 The OCSiAl delegation, represented by qualified experts in the rubber industry, was warmly welcomed at the Silicone Elastomers World Summit that was held from 30 November to 1 December at the Conference Initiatives Center in Cologne, Germany. Ekaterina Gorbunova, OCSiAl's Product Developer for Elastomers, gave a speech entitled "Conductivity in silicones while retaining elasticity: a new solution based on single wall carbon nanotubes".
In her presentation, Ekaterina compared the currently existing solutions for achieving conductivity in various silicones with a truly innovative conductive additive – TUBALL single wall carbon nanotubes. In particular, she outlined how nanotube-enhanced silicones can retain their mechanical properties, how coloured ESD silicones are now possible, and how how nanoaugmented silicones can be mixed at «clean» facilities.
At the Summit, OCSiAl experts provided in-depth information on their advanced super-concentrates based on single wall carbon nanotubes – TUBALL MATRIX 601 & 602 – which have been developed for reaching anti-static, dissipative and conductive ranges in LSR, RTV and HCR silicones. The low loadings required, which are unrivalled in the industry and range from just 0.05% up to 1% of single wall carbon nanotubes, allow softness and elasticity to be retained and for the rheology of the uncured compound to be maintained. Furthermore, this can be achieved with standard processing methods and mixing equipment. Concentrates are available in several matrixes, are easy to handle, and can be processed using standard equipment.
"The silicone industry is rapidly developing interest in the conductivity of materials. OCSiAl has already partnered with a number of companies that manufacture nanotube-based concentrates, such as LANXESS, or that use masterbatches in their final products," says Ekaterina Gorbunova. "The Silicone Elastomers World Summit is a well-organised platform for networking among key players from across the global elastomers supply chain, such as Wacker, Momentive, Dow Corning, Bluestar, where key strategic challenges and opportunities for the industry are discussed. OCSiAl, being the world's largest manufacturer of single wall carbon nanotubes, has insights and unique information on recent achievements with nanotechnology in silicones. The company is pleased to share this knowledge with other stakeholders in the industry and to form new partnerships."