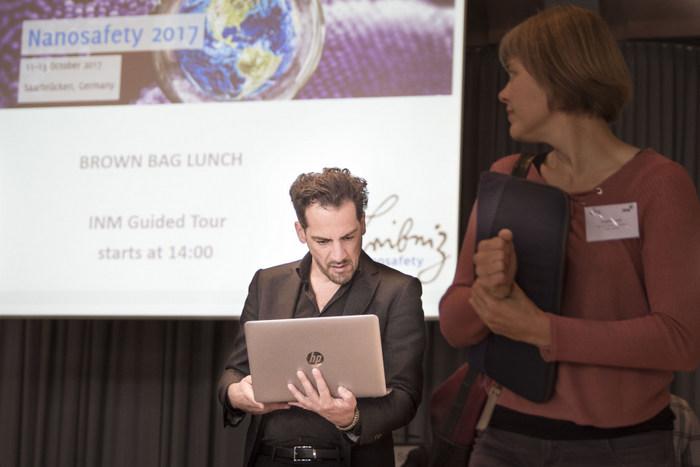 The Nanosafety 2017 conference was held on 11­­–13 October in Saarbrücken, Germany. Organised by the Leibniz institute for New Materials and the Leibniz Research Alliance "Nanosafety", this authoritative conference gathered together representatives of research and expert organisations, regulatory agencies and universities from all around the world.
OCSiAl was the only industry representative at the conference: as the world leader in single wall carbon nanotubes production, OCSiAl realises the importance of raising transparency in the management of nanotubes by analysing and openly discussing health and safety issues. In collaboration with leading independent research and technology organisations, the company constantly initiates tests of its core product – TUBALL nanotubes – and shares its broad-based experience with industry players and policymakers.
Gunther Van Kerckhove, OCSiAl's Health & Safety Lead Manager, presented a speech on regulatory issues and long-term effects. "As part of the company's commitment to its product stewardship policy, OCSiAl continues to seek synergy with others in the nanotechnology community. Ongoing networking at high-profile conferences such as Nanosafety keeps us up to date with the latest industry trends and international regulatory requirements", said Mr Van Kerckhove. The conference participants, in particular experts from the US Environmental Protection Agency (EPA), were genuinely impressed with OCSiAl's significant investment in comprehensive studies on nanotubes.
OCSiAl continues to provide the global market with a thorough understanding of single wall carbon nanotubes and their nature, safety and unlimited potential for use in a wide range of industries and products. The company has already shaped its plan for further studies in 2018, including joint tests with VITO, a leading independent research and technology organisation in Belgium, with INERIS, France's national competence centre for industrial safety and environmental protection, and with BAuA, the German Federal Institute for Occupational Safety and Health.