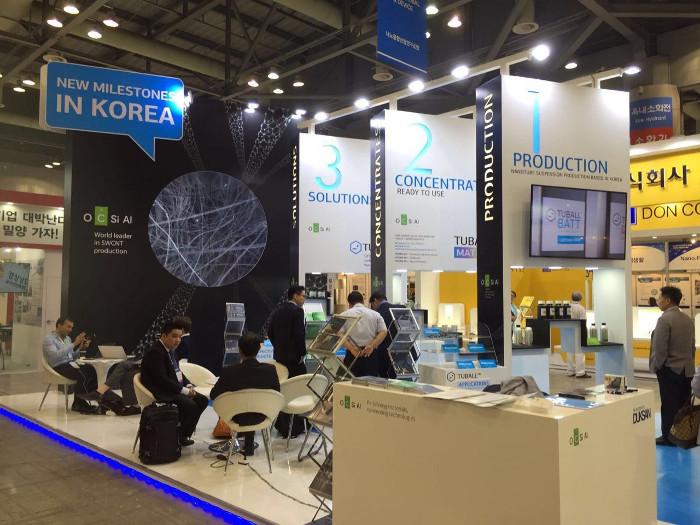 OCSiAl, along with its partner Duksan Pure Chemicals, will showcase its innovative technologies and solutions based on TUBALL™ single wall carbon nanotubes at NanoKorea 2016 at booth number K26 on July 13–15.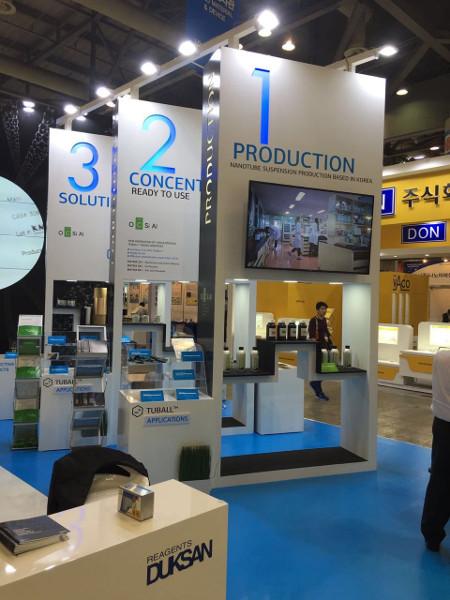 OCSiAl will demonstrate TUBALL™ BATT, a ready-to-use dispersion designed to incorporate TUBALL™ easily into electrode formulations during the battery manufacturing process. Ultra-low SWCNT concentrations of 0.03–0.05% are enough to form a conductive 3D network between active material particles, to reinforce the electrode structure and to improve mechanical stability during cycling. For electrically conductive coatings, OCSiAl will exhibit its water-based suspension, TUBALL™ INK, which provides excellent performance with an unbeatable balance of light transmittance and surface resistivity for flexible coatings.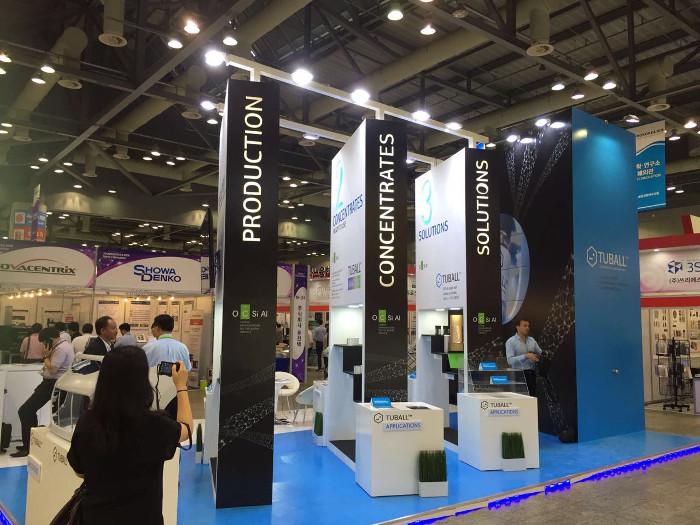 At the OCSiAl booth, the easy-to-use nanotube-based suspension TUBALL™ COAT_E will be on display. It provides permanent antistatic properties to waterborne paints and coatings with minimal impact on their colour or mechanical properties. NanoKorea attendees will also have the opportunity to discover the TUBALL™ RUBBER suspension for rubber goods, which can be used for electrical conductivity applications in rubbers, silicones and latexes. It also has mechanical applications, to increase the strength of rubber while maintaining flexibility and, in some cases, to improve other important properties such as hardness, cohesive strength, dynamic fatigue strength, abrasion resistance and hysteresis losses.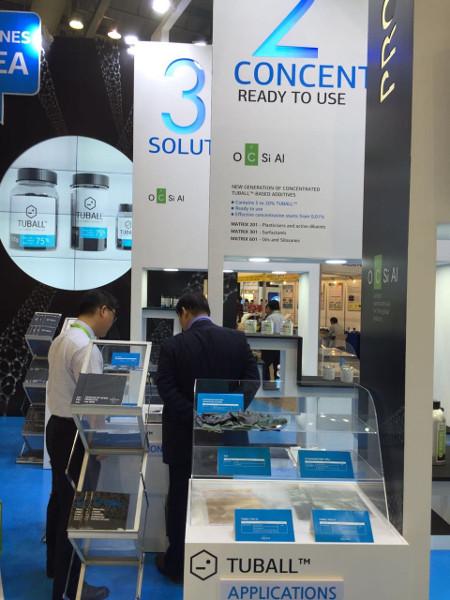 Experts from OCSiAl and Duksan will help expo attendees to order samples of TUBALL™-based suspensions for pilot-scale trials. Showcased products are already available from Duksan Pure Chemicals for mass orders.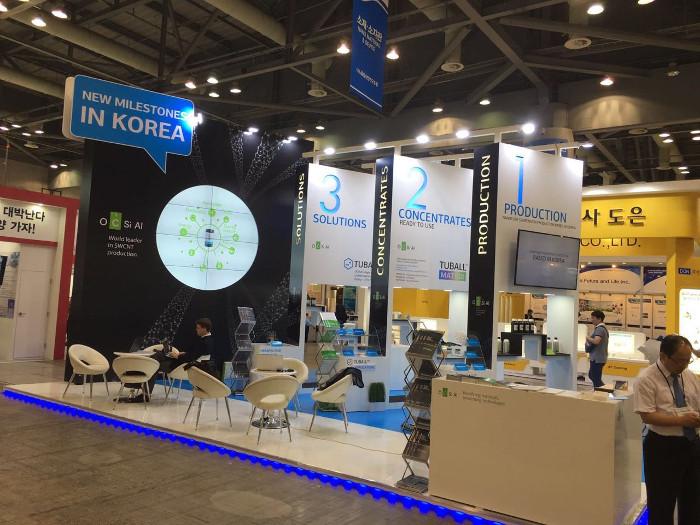 At its booth at NanoKorea 2016, OCSiAl will also present its latest achievement, the brand new TUBALL™ MATRIX technology for introducing SWCNTs into materials. This is a line of concentrates that are ideally suited for epoxy and polyester systems. At dosages of 0.5–4.0% in the final compound, it achieves resistivity in the range 10⁸–10² Ω·cm.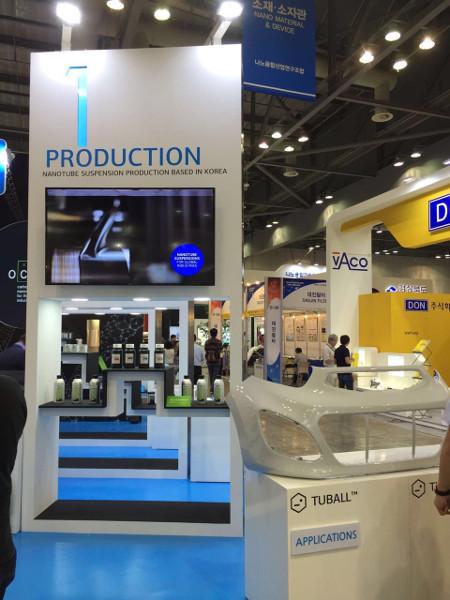 To provide attendees with more understanding of the efficiency and simplicity of SWCNT applications in real-world manufacturing, OCSiAl jointly with Duksan Pure Chemicals will also showcase industry solutions, which are produced with the use of TUBALL™ single wall carbon nanotubes. Visitors will get the opportunity to learn first-hand how SWCNTs work and to become familiar with coloured conductive floors, TUBALL™-coated Al and Cu foils, supported knitted antistatic gloves, lightweight cables with TUBALL™, TUBALL™ paper, nanotube-coated car details, and lithium battery cells, PVC, PU, TCF and epoxy resins with nanotubes.
Interest in the potential applications of introducing SWCNTs into manufacturing processes is growing rapidly, and OCSiAl is delighted to be hosting a number of seminars on nanotube applications at NanoKorea 2016. The aim of these seminars is to examine prospects and to embrace future opportunities for nanotechnology in industry.
On July 13, leading experts from OCSiAl Asia Pacific will familiarise the audience with recent achievements in the effective use of nanotube technology in a wide range of industries. At 14:30 in seminar hall A, the OCSiAl Asia Pacific Commercial Director, Kim Youngsup, will discuss the advantages of SWCNT-based conductive additives for Li-ion batteries, TCF, rubbers and coatings. Mr Kim will debate the superiority of single wall carbon nanotubes over other traditionally used conductive additives, such as multi wall carbon nanotubes, carbon black and metal fibres. Following this seminar, his colleague Kim Changwan, OCSiAl Asia Pacific Sales Manager, will introduce the next-generation SWCNT-based concentrate TUBALL™ MATRIX at 15:30 in seminar hall B. When used in thermoset matrix, it creates conductive and strengthened 3D networks that reinforce the resin structure, allowing for conductive parts to retain colours, maintain or increase mechanical strength, and it provides uniform surface resistivity without "hot spots" in the resin.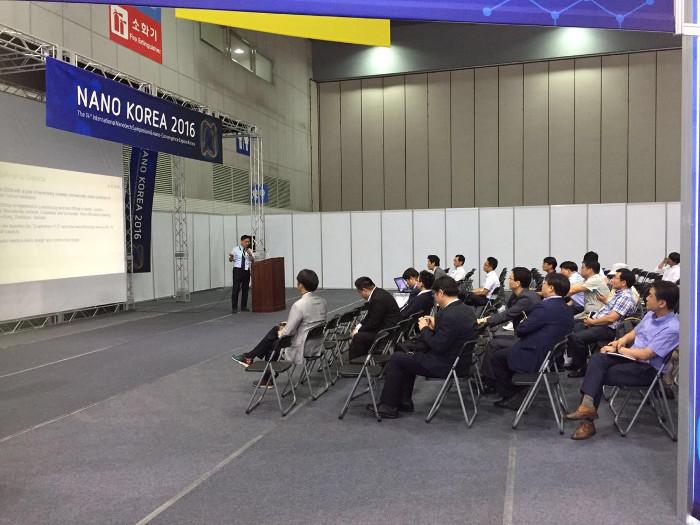 On July 14 at 13:00 in seminar hall A, Dr Kwon HanSang from Pukyong National University will give a speech on the future for carbon nanotube reinforced metal matrix composite materials and their applications.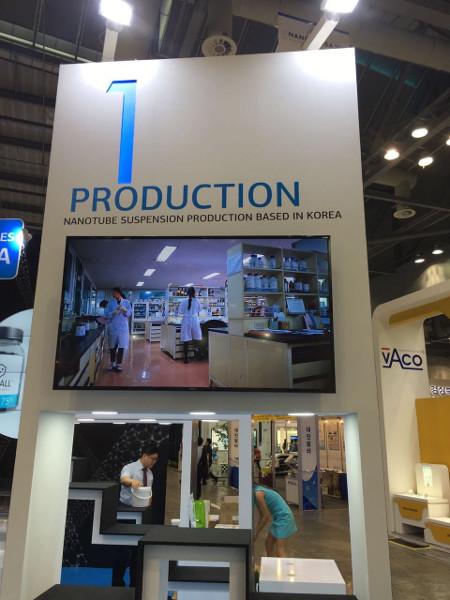 We look forward to meeting you at the OCSiAl booth (number K26) or at the seminars on July 13–14.
To confirm your participation in the seminars, please email asiapacific@ocsial.com stating your name and job title, company, telephone number and email.
For more information, please call us on +82 32 260 0407 or email asiapacific@ocsial.com .
###
About OCSiAl
OCSiAl was the first company to develop breakthrough technology for single wall carbon nanotube production, enabling large-scale commercial use for the first time. In 2014 OCSiAl entered the nanomaterials market with the universal additive TUBALL™, which contains 75% of SWCNTs. OCSiAl is developing technologies based on SWCNTs for a range of applications including lithium-ion batteries, elastomers, transparent conductive films, composite materials and others. It has regional offices in the USA, Luxembourg, Russia, Korea, China, Hong Kong and India.