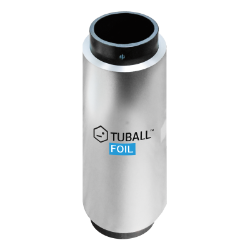 The new product, TUBALL FOIL, outperformed other products such as carbon-coated foils available on the market in key performance areas including electrical conductivity and adhesion with minimal thickness of conductive layer. This significant decrease in the thickness of the conductive coating will support battery manufacturer efforts to increase the energy density and prolong the life of lithium-ion batteries.
During the battery manufacturing process, anode and cathode materials are cast on aluminum and copper foils. These foils act as the battery's conductive substrate and the battery performance and cycle life depend on its properties. The thickness of currently available carbon coatings on foil is 1 micrometer or more, which negatively affects battery energy density.
TUBALL FOIL is aluminum or copper foil with less than 50 nanometer film of SWCNTs on its surface. SWCNT conductivity is higher than other carbon materials and their structure set a new standard in thin layer conductivity and adhesion performance. As a result, battery manufacturers have an opportunity to decrease the amount of binder used in electrode formulations significantly, reducing production costs and improving manufacturing yields.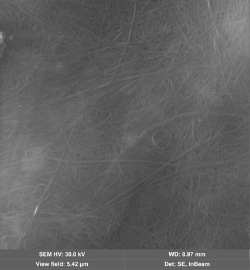 Picture caption: Electron microscope photographs show that the entire surface of TUBALL FOIL is covered with a layer of TUBALL™ SWCNTs measuring less than 50 nanometers thick.
OCSiAl laboratory tests have shown that the discharge performance of an iron phosphate-based battery  can be greatly improved: by as much as 20-40% of more available energy at low temperatures, and several times more at high currents. Such characteristics are particularly important in the field of lithium-ion cells for hybrid and electric vehicles. The use of copper foil coated with nanotubes can increase the charge acceptance of lithium-ion batteries, particularly at low temperatures, and reduce battery degradation during cycling.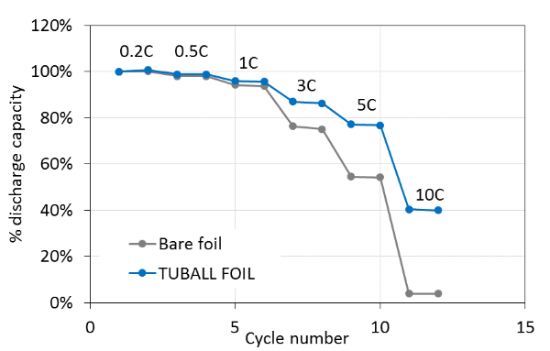 Aluminum and copper foil — TUBALL FOIL Al and TUBALL FOIL Cu — were first introduced to battery manufacturers in August 2015 and were successfully tested by more than 20 companies. An OCSiAl customer at a leading battery manufacturer noted: "TUBALL FOIL resistance is less than the best comparable foil coated with carbon and a significant reduction in thickness enables us to increase the energy density of our batteries. Also important is the fact that we have not experienced any problem with welding through the coating."
The scalability of the technology makes it possible to produce samples according to clients' specific needs, varying the thickness, width or pattern of coating. OCSiAl regional branches are now accepting orders for TUBALL FOIL Al and TUBALL FOIL Cu. The minimum order quantity is 1000 square meters. TUBALL FOIL samples are available free of charge for initial testing.
OCSiAl has a pleasure to present a new generation of carbon coated foil TUBALL FOIL along with the unique conductive additive for batteries TUBALL BATT at CIBF 2016, which will be held on May 24-26. OCSiAl is glad to welcome you at the exhibition booth 6T26, where you can learn more about energy applications of our brand new products for batteries and order samples of single wall carbon nanotubes based products. For more information please contact us by e-mail china@ocsial.com or phone +86 135 9012 5295.