Single wall carbon nanotubes (SWCNTs) an innovative nano-additive is making waves in the global materials processing industry. OCSiAl, the Russian company which has come out with a pioneering technology in this field is on a fast track of expanding its footprints across the globe with its TUBALL brand of innovative SWCNTs. The key advantage of the SWCNTs is that the desired properties of materials in the processing stage can be achieved with ultra-low loadings of the additive – hundreds or thousands of times lower than other widely used conductive additives, and starting from concentrations of just 0.01%.

OCSiAl's huge share of this market is a direct result of the unique technology it has developed that allows it to produce high-quality single wall carbon nanotubes, under the TUBALL brand, on an industrial scale, and at a price 75 times lower than that of the nearest analogues. The company has also developed super-concentrates that simplify the introduction of nanotubes into materials and do not require changes in production processes. OCSiAl synthesises almost 90% of the world's capacity of this unique conductive additive for thousands of materials.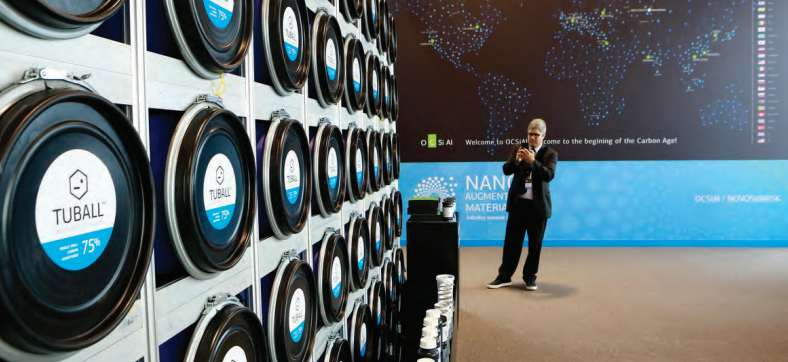 OCSiAl Nano-Augmented Materials summit
The Nano-Augmented Materials recently held in Novosibirsk in Siberian region of Russia provided the delegates to get updated on the latest challenges and prospects of this technology. The plenary session, scientific conference and round table discussions on five pioneering industries that most actively adopt nano-augmented materials- batteries, elastomers, thermosets, thermoplastics and coatings contributed to the sharing of knowledge and of results achieved so far, and widened the prospects for rapid development of the nano-augmented materials industry.

One of the most noted presentations was that of Jean-Nicholas Helt, Development and Support leader for Elastomers, OCSiAl on "SWCNT-new freedom in material design and performance in tyres". The Summit brought together leading pioneers in their respective including Rhein Chemie Additives, PolyStick, BÜFA, TrustChem, BAK Battery, Mahindra, Jungwoo. In order to share the company's in-depth knowledge of single wall carbon nanotubes, their synthesis method and their safe use, OCSiAl took the Summit participants into its facilities, including the Graphetron 1.0 nanotube synthesis unit and the unrivalled TUBALL Centre for research and production.

The Summit gathered together almost 180 participants, from 27 countries, from companies that already actively adopt nanoaugmented materials in their production processes. As the Global Marketing Manager of LANXESS Rhein Chemie Additives, Dr Benjamin Bechem, said, "We have presented to the market a line of TUBALL-based suspensions branded Rhenofit CNT. And the market has already demonstrated an interest for it."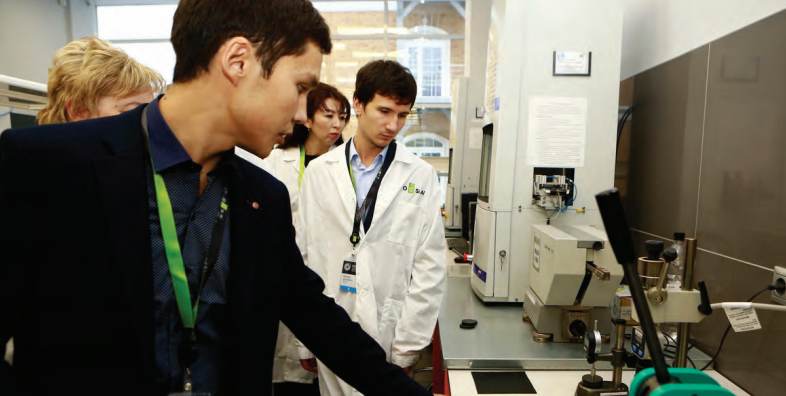 Amazing possibilities
SWCNTs, in particular, have strong potential in advanced technologies, including high performance composites, molecular electronics, and ultra-sensitive sensor devices. However, until now the uptake of SWNTs was slow due to high costs and greater processing difficulty when compared with multi-walled carbon nanotube production.

Laboratory tests have demonstrated the efficacy of SWCNTs, with ultra-low loadings of 0.05% or less required to achieve the necessary level of conductivity. Embedded into latex, SWCNTs with high aspect ratio are capable of forming interconnected networks between rubber matrix and carbon nanotubes. Therefore, a lower loading of such materials can provide the required electrical conductivity and simultaneously retain the mechanical properties of the elastomeric matrix, which makes them ideal for such applications, said Ms Ekaterina Gorbunova, Managing Director (Elastomers) OCSiAl.
Production and R&D facility
To facilitate the application of TUBALL SWCNTs in different materials and applications OCSiAl established its own scientific and prototyping center. Started in October 2013 with the equipment installation for electrochemical power sources, OCSiAl has expanded its facilities and in 2015 established the new TUBALL Center for developing technologies for rubbers, plastics, composites, transparent conductive films, paints and coatings.

The TUBALL Center takes more than 4000 square meters of space and has more than 150 equipment units to introduce nanotubes into various matrices. TUBALL Center key technologies include carbon nanotubes research and processing, Electro-chemical power sources, Elastomers, Thermoplastics, Thermosets, Paints and coatings. For large quantities of nanotubes OCSiAl has launched a partnership program to create a network of OCSiAl dealers worldwide. This program will also stimulate the production of TUBALL-enhanced versions of current products as well as the production of TUBALL-based industrial modifiers for various materials.