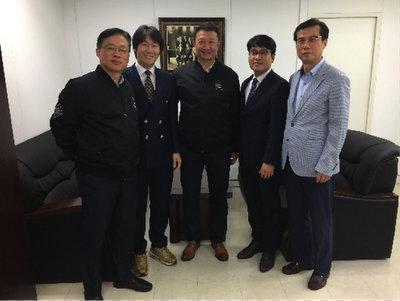 OCSiAl Asia Pacific and the Korean manufacturers Grace Continental Korea, Seohyun Techchem and Next Generation Materials have joined forces with PlanIt Trading to market TUBALL-based masterbatches, materials and end products that are now being produced in Korea.

Among the growing number of manufacturers around the world who are applying OCSiAl's TUBALL nanotubes and masterbatches, some are now developing their own know-how with regard to the advantages of TUBALL. "The Korean companies Grace Continental Korea, Seohyun Techchem and Next Generation Materials are manufacturing their own unique products containing TUBALL nanotubes. Following successful penetration of the local market, these companies have gone further and are now exporting their cutting-edge products outside the Korean market," said Viktor Kim, OCSiAl Asia Pacific CEO.
PlanIt Trading, one of the largest Korean chemical dealers, has been granted an exclusive right to commercialise products that have been significantly improved by TUBALL, including high-performance suspensions, silicones (HCR and LSR), PSA films and metal composites. The potential market for these products has been estimated as being up to 350 million US dollars annually. This cooperation will boost the expanding use of single wall carbon nanotubes and will help to popularise their mass application.
###
PlanIt Trading Co., Ltd established in Korea more than 15 years ago, is the largest dealer of additives for the chemical and electronics industry as well as manufacturing equipment. The Company has been constantly expanding its sales and partner network into international markets.
Grace Continental Korea Co., Ltd
Grace Continental Korea began its history of silicone rubber production in 1979 as a private firm, Daeheung Silicone Corp., by cooperating with Rhodia and Wacker Chemie GmbH. Over the course of the following 38 years, Grace Continental has expanded into the Asia Pacific market by opening three plants Korea and China and establishing four branch offices (in Korea, Hong Kong, Shenzhen and Qingdao). The company now has more than 1800 employees in total. gckorea.com
Seohyun Techchem Co., Ltd was established in 2004 in Busan, Korea, and it opened additional offices in Suwon in 2006 and in Anyang in 2012. It has evolved into a full-fledged business by also creating an R&D and pilot centre in Hwaseong. Seohyun specialises in manufacturing various types of chemicals, including care products, plastics, fine chemicals, paints, inks and adhesives. The company's growing international sales network now covers China, India, Malaysia, Indonesia and Singapore. shtchem.co.kr
Next Generation Materials Co., Ltd was established in 2014 and, despite its short history, it has managed to be awarded as an Outstanding Research Company by the INNOPOLIS Foundation of the Korean Ministry of Science, ICT and Future Planning. The company's specialisations include the manufacture of advanced materials and engineering parts such as nanopowders and nanocomposites, functionally graded materials, monosized spherical particles, and metallic glass particles. Next Generation Materials is also pioneering a range of technological process such as spark plasma sintering, inductively coupled plasma and burner heating tests, as well as other R&D technologies. Recently, the company has been developing innovative reinforced metal matrix composites based on OCSiAl's TUBALL single wall carbon nanotubes. ngm.re.kr