Dear all,
We have a pleasure to invite you to visit us at CIBF 2016 exhibition to be held on May, 24-26 in Shenzhen Convention and Exhibition Center. OCSiAl with it's partner Evermore are glad to welcome you at our exhibition booth 6T26 .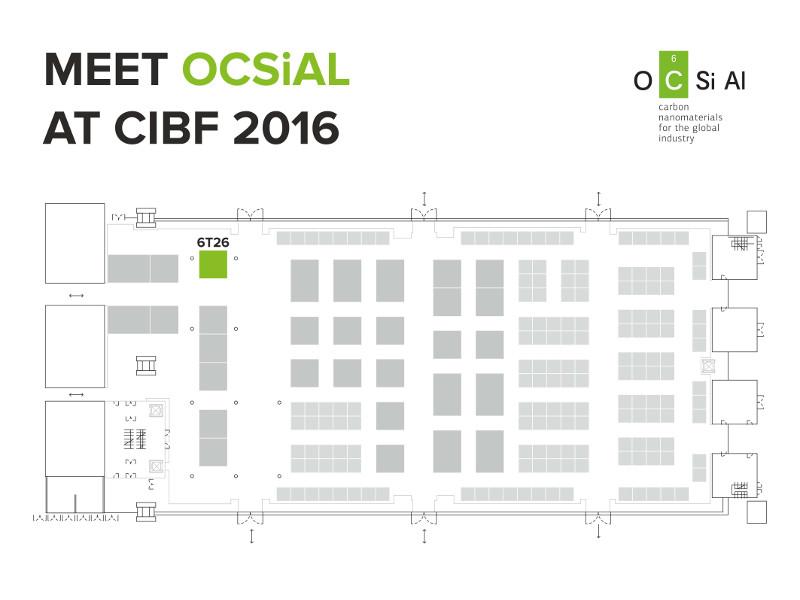 Our company is going to introduce you the outstanding solutions for batteries based on single wall carbon nanotubes TUBALL:
- new generation of carbon coated foil
- unique conductive additive
Exceptional ready to use product TUBALL FOIL Cu and TUBALL FOIL AL with the unique combination of low thickness and excellent performance in Li-ion cells. Coating of less than 50 nanometers allows to increase the energy density and prolong battery cycle life. Specific characteristics and the structure of SWCNT provide the high conductivity and adhesion.
Dispersion of single wall carbon nanotubes in NMP or H2O –  TUBALL BATT . It helps to increase the percentage of active cathode material up to 99.3%. It also improves adhesion by establishing strong ties between the particles, reducing the amount of binder required.
Brand new products for batteries will be available on our stand. Our CTO Konstantin Tikhonov will provide you with more details on energy applications of our products. We will be pleased to help you to order samples of single wall carbon nanotubes based products.
Please, confirm your participation by replying this letter. Thus, we could make time reservation for you in advance for better service quality and personal care. Please contact us by e-mail china@ocsial.com or phone +8613590125295.
Looking forward to meet you at CIBF 2016.
Yours sincerely,
OCSiAl team
ocsial.com/en/