Summary of OCSiAl press round table with Korean media:
Introduced breakthrough technology of OCSiAl and TUBALL® SWCNT featuring >75% of single wall carbon nanotubes.

ŸAnnounced partnership with local nano technology firm, Applied Carbon Nano Technology and unprecedentedly large-scale 100kg of carbon nanotubes deal.

A total of 10 reporters from 9 major business / trade / English media participated in the media roundtable: Korea Economic Daily, Seoul Economic Daily, Financial News, MoneyToday, Amenews, Chemlocus, EBN Chemical News, Semiconductor Network, The Korea Herald.

Attracted strong attention from reporters by emphasizing OCSiAl to provide up to 10 tonnes of SWCNT every year at greatly low price.

Achieved a number of positive coverages: 24 articles, including 3 print and 21 digital publications.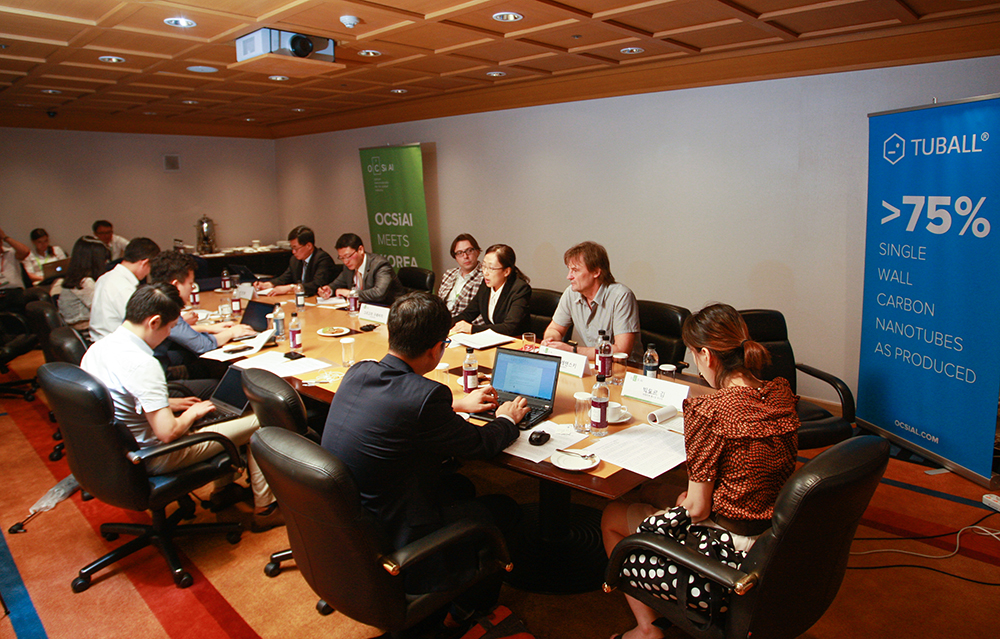 Press round table in progress<br>
Mikhail Predtechenskiy, Chief Technology Officer, OCSiAl
Mr. Dae-Yeol Lee, CEO of ACN
<span  style="background-color: initial;">Grigory Gurevich, First Vice President, OCSiAl</span><br>