The Li-ion battery market is one of the fastest growing and most highly competitive markets. Leading manufacturers are on a constant lookout for ways to increase battery energy density and thus give their products a competitive edge. This can now be achieved by replacing conventional conductive additives with single wall carbon nanotubes.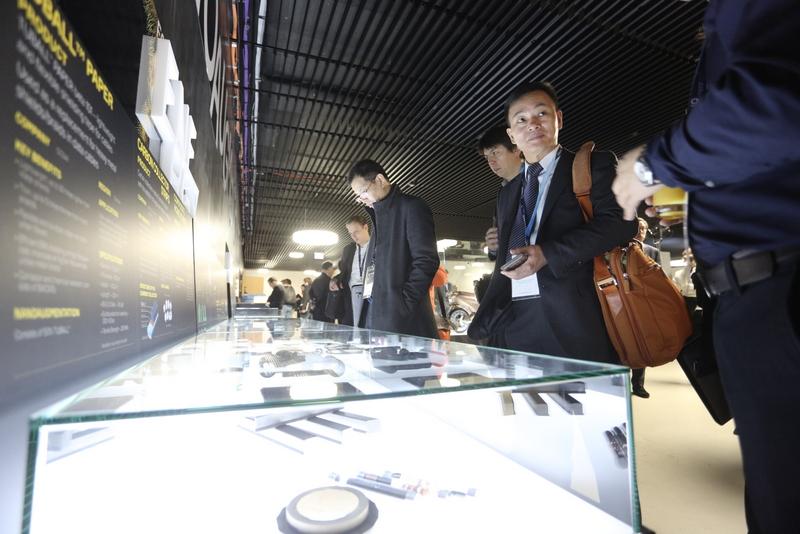 OCSiAl is currently the only manufacturer able to produce this universal additive on an industrial scale. Acknowledging its leading position in bringing nanoaugmented materials into mainstream industries, OCSiAl is committed to initiating communication between potential business partners. At this year's NanoSummit, battery manufacturers and suppliers from all over the world were among the industry stakeholders who shared their experience in applied nanotechnology.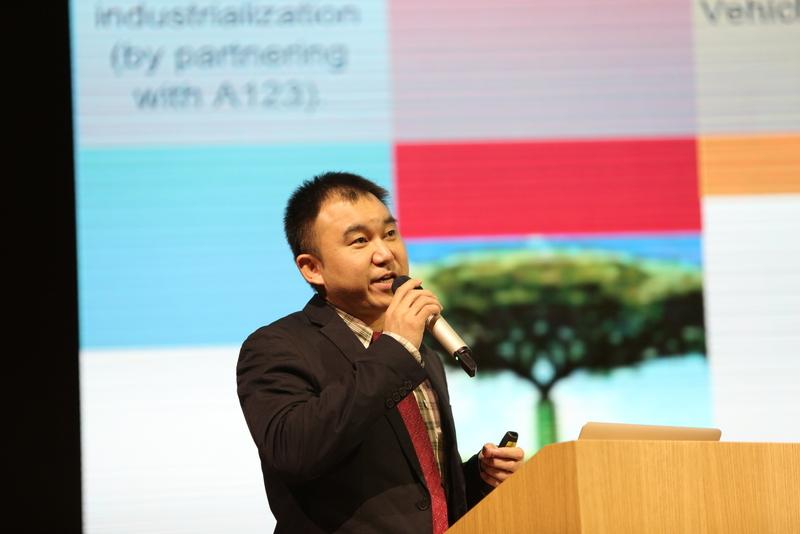 The Chinese company Shenzhen BAK Power Battery, which is among the world's top 10 largest manufacturers, has been testing OCSiAl's TUBALL nanotubes since 2016 and shared its results with the NanoSummit participants. " Single wall carbon nanotubes have great applications in lithium-ion batteries ," said Jian Lin, Vice President of Shenzhen BAK Power Battery . " We can use single wall carbon nanotubes on both the cathode and the anode to achieve better performance compared with typical carbon black. " Ultra-low loadings of TUBALL nanotubes provide manufacturers with high conductivity and increased energy density as a result of the higher percentage of active material.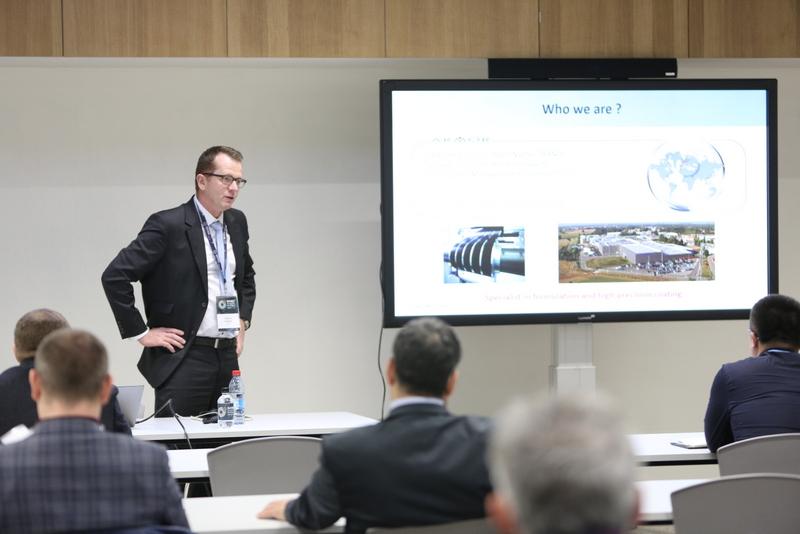 Imerys Graphite & Carbon shared its results in combining different forms of carbon for better electrical conductivity and increased energy density. " Electrical resistivity achieved with 2% of carbon black can be compared with 0.1% of single wall carbon nanotubes . Some cell applications require to use multi-component conductive masses though ," said Michael Spahr, Technology Cluster Director of Imerys Graphite & Carbon . " Potential applications could be focused around energy storage and various consumer applications. "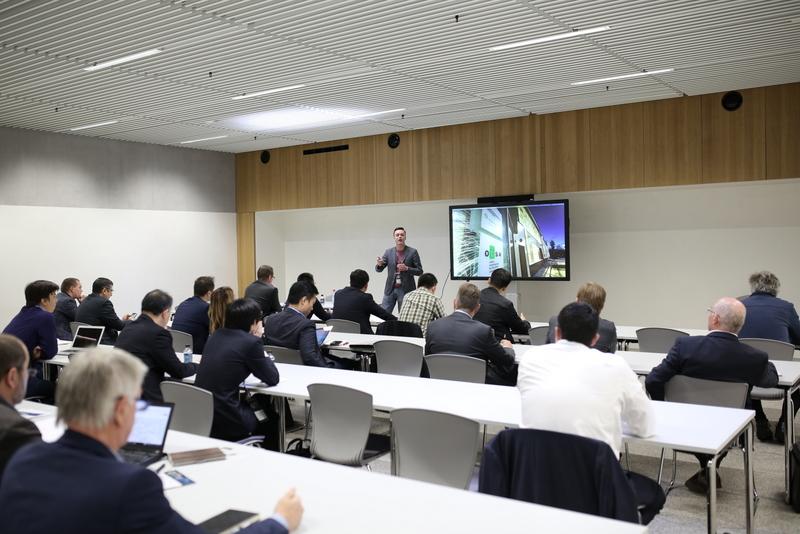 A number of chemical companies in various regional markets are already producing concentrates based on OCSiAl's technology. For example, Shenyang East Chemical presented its vision of how the Chinese battery market will develop as the wider use of advanced concentrates based on TUBALL nanotubes continues to gain momentum. ARMOR, a coating partner for TUBALL FOIL, is also introducing TUBALL nanotubes in its own product range: organic PV films, thermal transfer films, pre-coated foils, transparent electrodes and high barrier films.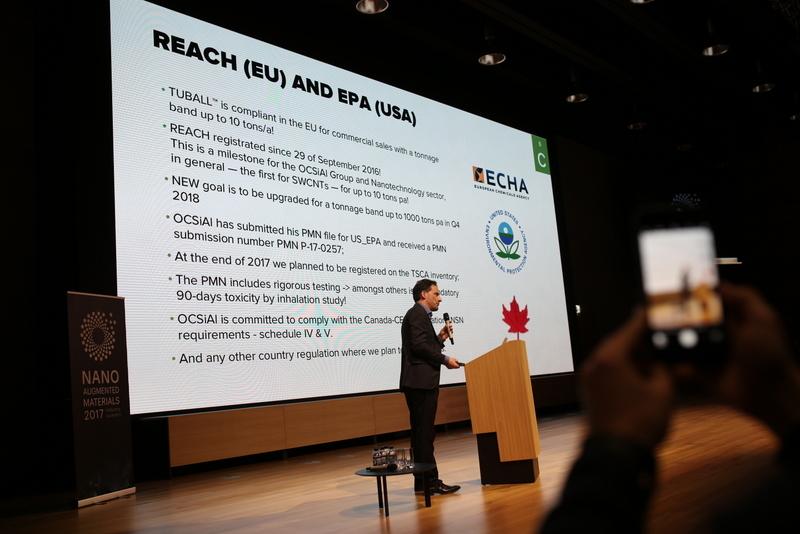 Acknowledging the fact that health and safety issues are a linchpin in any transformation of leading-edge technology into mainstream engineering and industry, OCSiAl continues its responsible approach to health, safety and environmental issues. At the Summit, the company briefed its partners on the latest results received from independent laboratories, including confirmation that no nanotubes are released during utilisation of materials augmented with TUBALL. " OCSiAl is planning to invest further in additional H&S and environmental studies because we are committed to taking the lead in raising the transparency of nanotube management and to supporting our clients' efforts in boosting their applications in a wide range of industries, including consumable products ," added Gunther Van Kerckhove, OCSiAl's EHS Lead Manager .
NanoSummit 2017 closed on an upbeat note, having taken another significant step forward in bringing the nanoaugmented materials revolution to an even wider range of industries. Being a hub for the development of the most cutting-edge technologies and industry breakthroughs, Shanghai has been chosen as the venue for the Nanoaugmented Materials Industry Summit in 2018.