Over 7,500 battery manufacturers and supply chain partners descended upon Novi, Michigan, USA to learn about the latest in energy storage technology at the annual Battery Show North America on September 12–14, 2017.
At the event OCSiAl demonstrated new test data showing that TUBALL™ BATT nanotube dispersions significantly increased cycle life when added to silicon anodes of high-energy 18650 cells. With cycle life improvements over 40% compared to multi wall carbon nanotubes (MWCNT) and even greater gains over vapor grown carbon fiber (VGCF), TUBALL™ is the leading additive in lithium-ion cells with Si anodes. These cycle life gains are in addition to the proven ability of TUBALL™ BATT to replace traditional conductive additives in Li-ion chemistry.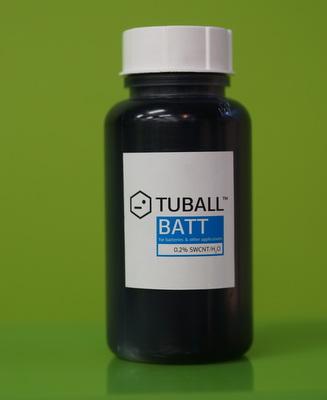 "We saw a substantial increase in industry interest in TUBALL™ nanotube solutions. As more manufacturers look to increase energy density, they naturally turn to TUBALL™ BATT and FOIL products, which provide off-the-shelf improvements that are compatible with current lithium-ion technology" said Dmitri Aronov, CEO of OCSiAl USA.

OCSiAl products are powering the next generation of lithium-ion battery products with its proven nanotube solutions. Since its introduction in 2014 TUBALL™ BATT has been steadily graining traction in the industry as manufacturers complete their test programs of this novel and widely verified conductive additive. In 2015 OCSiAl launched the TUBALL™ FOIL line of Li-ion battery foils with 50-nanometer coatings of nanotubes that significantly lower interface resistance and improve adhesion, which have set a new standard in li-ion foil performance.
For more information on OCSiAl solutions in North and South America, contact usa@ocsial.com