The recent Nano Tech show in Japan was a huge success for OCSiAl Asia Pacific, whose booth was located in the Korean pavilion area along with its five partners: DUKSAN Pure Chemicals, Grace Continental Korea (GCK), Trust Chem Corporation, COMPA (Commercialization Promotion Agency for R&D Outcomes) and Next Generation Co Ltd.
With a large number of active business talks being held during the course of the 3-day show, which started on 15 February, OCSiAl Asia Pacific's booth was the highlight of the Korean Pavilion. More than 150 business leaders from Japanese and overseas corporations visited the OCSiAl Asia Pacific booth, which is a reflection of the rapidly growing interest in the company's TUBALL single wall carbon nanotubes (SWCNT) and all the new "Industrial Applications with SWCNT".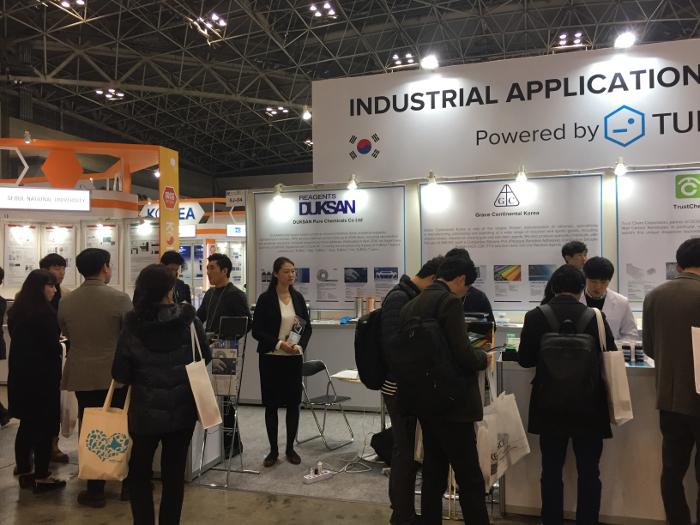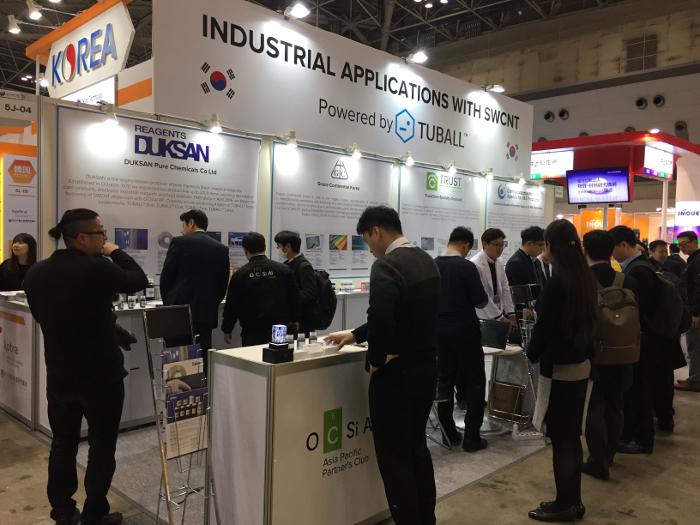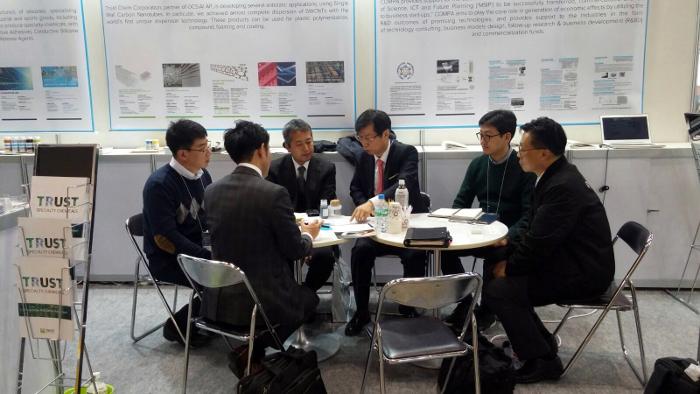 Figures 1–3: Aisles are crowded inside the show hall near OCSiAl AP's booth and lively business discussions are held with exhibitors and buyers throughout the show period
Among these new applications is a series of conductive silicone PSA, HCR and LSR, which OCSiAl Asia Pacific revealed jointly with one of its partners, Grace Continental Korea (GCK). GCK was the first company to develop conductive silicone PSA with resistivity in the range 10 5 –10 6 Ω·cm, while still allowing transparency or colour to be retained!
Another exciting new product from GCK is colourable conductive HCR. With the range of resistivity also being 10 5 –10 6 , the key benefits of such rubber are its pigmentability and its wide service temperature, which makes it suitable for the moulding process. Applications include silicone rollers, conductive sheets, gaskets, profiles for electronics (colourable), cable elements (colourable) and other conductive parts.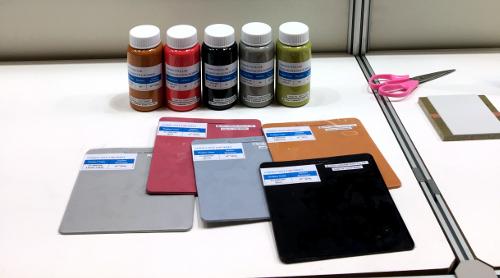 Figures 4 and 5: Conductive silicone PSA film, HCR and LSR samples from Grace Continental Korea

Another partner of OCSiAl Asia Pacific, DUKSAN Pure Chemicals, showcased a series of TUBALL-based suspensions that are used for coatings, paints, primers and other industrial applications. Among DUKSAN's "winner" applications is foil that is coated with TUBALL nanotubes. Coatings made with these high-purity SWCNT allow for better surface smoothness and thinner foil layers, which ultimately improves battery quality, extends battery life and reduces impedance.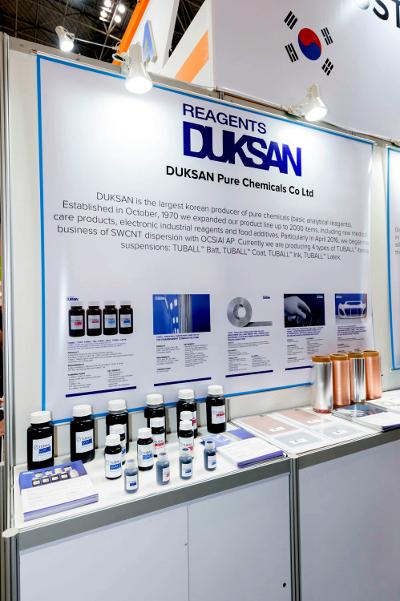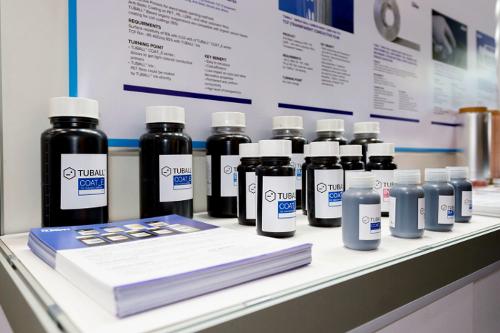 Figures 6 and 7: TUBALL-based suspensions and foil from DUKSAN Pure Chemicals

It was not only business leaders who showed great interest in the industrial applications of SWCNT from OCSiAl Asia Pacific. The company and its partners were also introduced in the Amenews website, which focuses on new materials and the economy. The Commercial Director of OCSiAl Asia Pacific, Mr Kim Youngsup,
briefed reporters
on the latest innovative solutions from each partner company.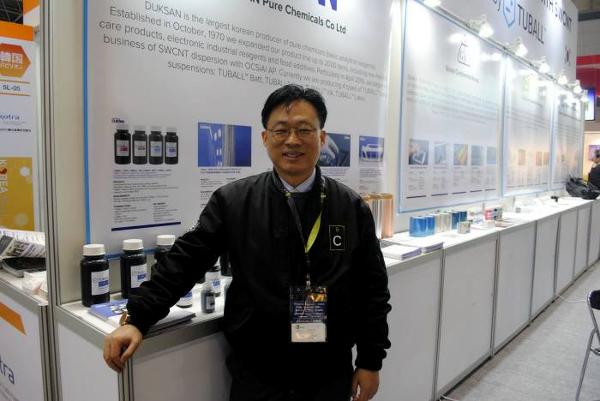 Figure 8: Kim Youngsup, Commercial Director of OCSiAl Asia Pacific, representing the company at its booth at Nano Tech Japan 2017

About Nano Tech Japan 2017
This year the show celebrated its 16th anniversary, with the number of visitors continuing to grow: there were 53,106 visitors this time compared with 48,514 in 2016. With more than 40% of participants being decision makers, Nano Tech Japan is one of the best places to promote innovative products, find the right business partners and enhance corporate branding. With its team of highly professional specialists, OCSiAl Asia Pacific is ready to hit next year's Nano Tech Japan show.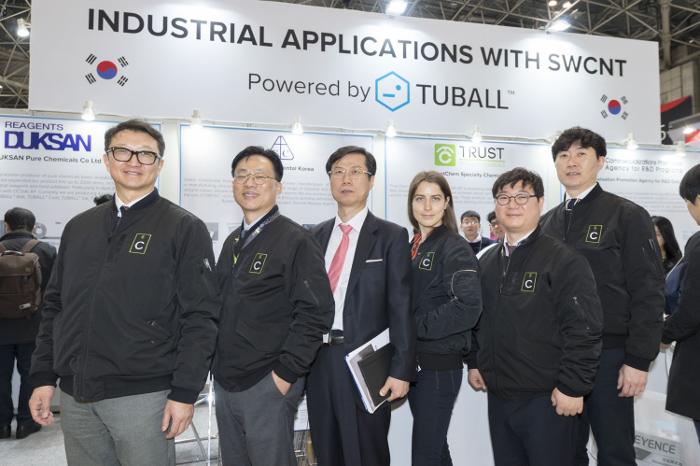 Figure 9: Specialists from OCSiAl Asia Pacific with their Korean partner led by Viktor Kim (CEO) at Nano Tech 2017