The 29 th of April, Novosibirsk – Duksan delegation, headed by the Executive Director Mister Hong Sung-Tack, visited OCSiAl production facility and prototyping center in Novosibirsk. The inventor of innovative technology of single wall carbon nanotubes synthesis – Mikhail Predtechenskiy welcomed partners personally. He emphasized the company's intention to continue close cooperation with Duksan and to promote the change of Korean material market with the help of single wall carbon nanotubes in the nearest future.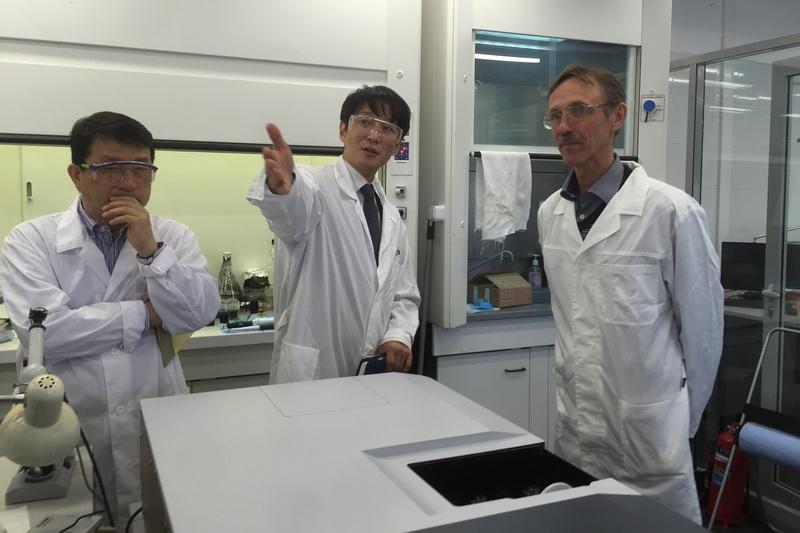 Korean colleagues have received theoretical lessons, developed for them by the leading OCSiAl experts. Duksan counterparts got the deep understanding of technology of single wall carbon nanotubes suspensions production, such as TUBALL BATT, TUBALL COAT, TUBALL RUBBER and TUBALL INK. Korean delegation also visited OCSiAl laboratories and prototyping center, where they had practical lessons. Research and Development department of OCSiAl has demonstrated the process of masterbatches production and answered Korean delegation questions.

Alongside with the lessons OCSiAl has already send the first batch of single wall carbon nanotubes TUBALL to Duksan. It must be reminded that according to the agreement OCSiAl will deliver 400 kg of single wall carbon nanotubes and the ultrasonic equipment for the TUBALL masterbatches production to it's partner. Duksan will begin industrial production of suspensions for lithium-ion batteries, transparent conductive coatings, latex, synthetic rubber , paints and coatings based on OCSiAl technology. Both companies are confident that their long-term partnership will give the results in the nearest future and they will jointly change Asian material market with the usage of nanotechnology.
###
About Duksan
Duksan Pure Chemicals Co., Ltd. produces chemical reagents, electronic industry reagents, pharmaceutical excipients, etc., leading the domestic reagent industry. Founded in 1970, the company has made consistent investments and endless improvements in quality. It currently produces 2,000 types of reagents and supplies high quality products at reasonable prices to destinations in Korea and Southeast Asia. Its headquarters and both plants are located in Ansan, Gyeonggi-do, Korea. Specifics about the company are available on the Duksan homepage www.duksan.co.kr .